Here is my latest blog post that seems to highlight my frequent moments of spontaneous thinking, my love of cycling and the great outdoors.
I hope that you enjoy reading it...
Rotterdam
My home and starting point is Rotterdam. It is indeed a great city, hip and happening, with so much to see and do.
Architecturally stunning, continually changing and growing at a rapid rate. Located close to the beach, river and surrounded by excellent countryside escapes.
Aside from my bias, it definitely ranks as a great place to explore in itself, but also beyond the city limits.
Sunday Cycling...
With a little bit of free time on my hands and the continuation of some amazing summer weather, I decided to go out on the bike early doors, in the hope of getting in some much-needed miles and of course to enjoy the spectacular summer sun.
I have big plans afoot and the only way I can train, other than my commute to work is to maximise some of the free time I have, by just getting out there and simply pedalling on. Hopefully, to achieve greater things and fulfil many of my hopes and dreams.
I guess for many, Sunday is often referred to as a day of rest. For me, my body clock just seems to react with the sun and when it's up, so am I. Yes, it is weird, I know, as I could probably do with some well-earned rest, but that is just the way it is. After all, I am a man and my head will often tell me one thing and my body another.
After gathering my things and eating a good breakfast I venture downstairs, out of the front door and then on my way. Soon enough I'm riding through the quiet streets of the city. Early on a Sunday morning, it looks fairly desolate and deserted, with only one or two party goers, looking like zombies and doing their best to complete the 'walk of shame.'
A short while later I had made it down to the riverbank and to a point where decisions needed to be made. With that in mind, I'm never very good when it comes to crossroads, as the options for a cyclist are simply too great. With many interesting routes on offer. These different routes always seem too appealing and I guess sometimes that appeal can become to great.
Nevertheless, being a decisive person, it doesn't take long for my decisive mind to take full control and I'm then told, by the voices in my head, to go left, so that's exactly what I do. From this point, I turn into the early morning sun and then head off along the river in an easterly direction.
Sometimes it gets really busy along here...
It was probably, not the best time to cycle through this popular tourist destination, but this blog draws upon spontaneous moments, so I guess this now becomes true to its word.
This is Kinderdjik, on a Sunday, it's early and its busy.
Even so, it is a fabulous place to cycle and of course take in the splendid scenery.
I'm quickly learning from my mistakes, so next time I'll double check Google Traffic, before leaving the house.
Today, a longer ride...
For this particular cycle ride, I wanted to continue building my (improving) base fitness and simply get some longer routes, under my belt. Prior to setting off, I had thought out a sketchy route, which eventually would turn into a natural circular loop, of around 50 miles or so.
So much so, it was probably going to be a fairly big loop, in the end, and considering I hadn't actually done it before, I had this sudden feeling, that it might actually be even longer than first thought. Add to that I'd forgotten my pump and puncture repair kit. I was now putting the whole journey, in the hands of the Gods and hopefully, today, they would be on my side.
Turning left meant that I would be going out of the city of Rotterdam, in an easterly direction, into the bright sunshine. I followed the red cycle path, with the river on my right. This allowed me to enjoy watching the many boats travel up and down and it was a delight to see and be accompanied by, so many runners and fellow cyclists.
For me, it is always good to see this, each time I go out. As it is not only reassures me this is a popular route, to run and cycle, but also provides added motivation in what seems like a Rotterdam fitness revival. With so many others out there all at the same time, just enjoying the moment. Furthermore, it also confirms that I'm not the only nut case out there and it seems others follow the same mode of thinking as me and... I'm delighted they do!
On this winding route, you stick to and travel close to the river. Then in certain places you travel up and down the steep sides of the dykes. This can be somewhat disorientating at times, as one minute the river comes into view and the next moment you are actually below it. It is a pretty cool experience, as this means you are actually below sea level and with that, you are reminded that around 80% of Rotterdam and its suburbs is positioned below sea level.
Eventually, I reach the giant sluice gate near Krimpen. This is a big and significant structure, to the local area and of course important to regulate the levels of the river and to stop any potential flooding happening, here and throughout the Netherlands. Now... I'm new to the Netherlands, but I'm learning quickly. These gates are so important to stop any potential flooding, so it is important they are, respected and regularly maintained. Therefore, I show my respects by shouting 'Dank je wel' as I ride up the steep ramp, cross at the top and then speed down the other side.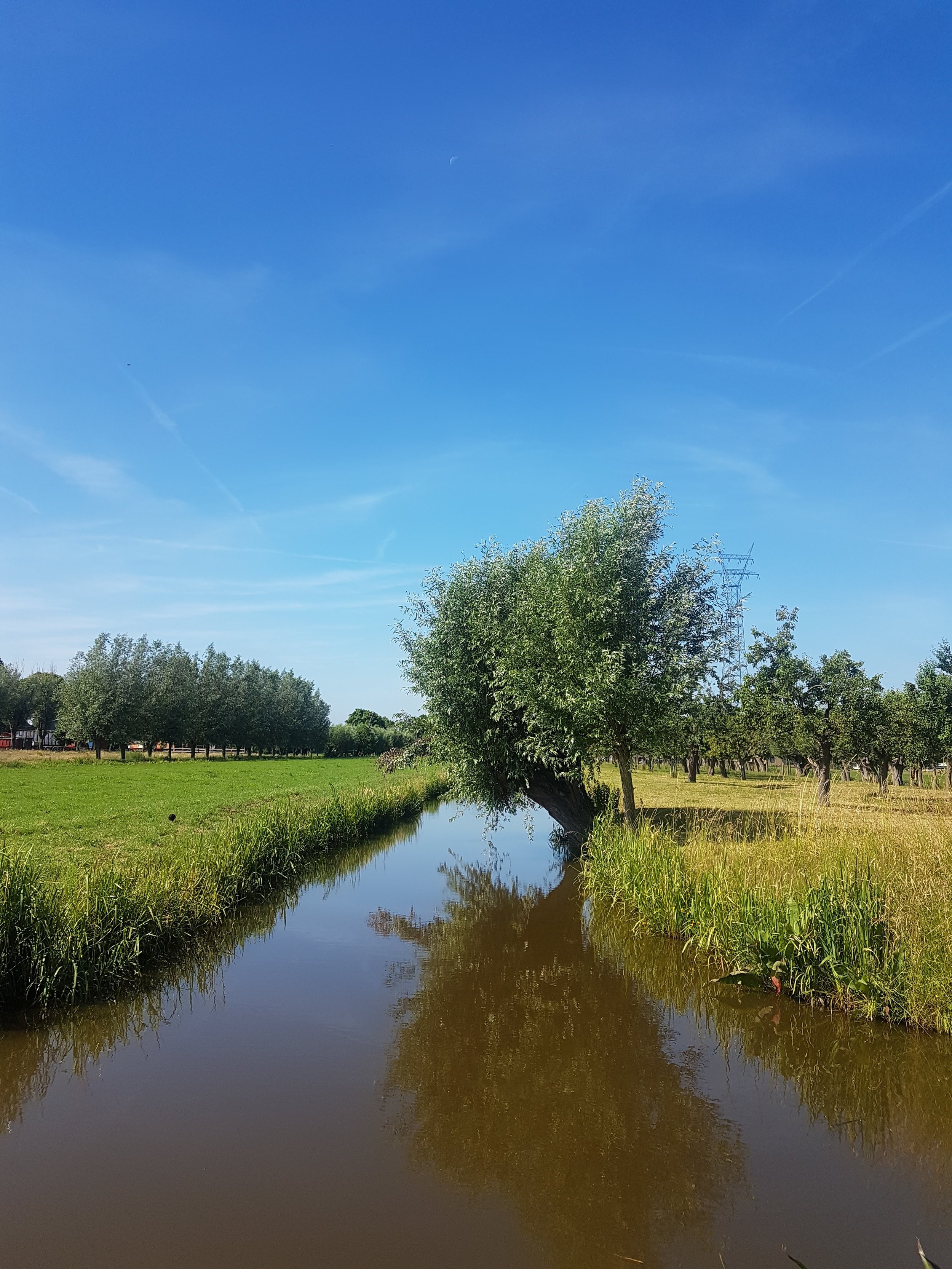 The landscapes of the Netherlands are pretty beautiful at times and forever changing, from season to season.
With wide open expanses of flat lands mixed with woodland areas, canals and farmland.
It makes for pretty, picture perfect scenery.
It is all there for you to explore. Just get out there and enjoy it!
Sometimes you have to be a little patient...
Soon after speeding down the ramp, I start to pedal through the last suburban area, of Rotterdam and into the countryside that surrounds. I would say this is my favourite part and I guess every other cyclist too. Here for the first time, for around 15 minutes, you don't necessarily need to stop 'hitting the brakes' and stopping for traffic lights. Finally, some freedom can be found and it is a good opportunity to enjoy it, take in the surroundings and simply pedal fast as you like.
As you will gather from my previous posts, that I'm a man who loves his hills and mountains. I grew up a hill dweller and it is I guess second nature for me to just climb the hills and revel in enjoying the wondrous views from some of the highest vantage points. Whether that is by foot, car or bike, it is all really good, but here, in contrast, my surroundings are... just flat.
Although, the flat is flat and some might say, often boring to look at. I actually find them really unique and I particularly love the great sense of remoteness and exposure that they so often present. Of course, the fields have trees in them and cows too, but you probably wouldn't want to be here in certain weather conditions, as shelter comes at a premium. Although, some of the best diverse weather conditions can be seen in some of the nearby locations.
With that said, the cycling becomes easier and you can certainly pick up vast amounts of speed. Probably, even breaking the speed limit and often covering many miles or km in a short space of time.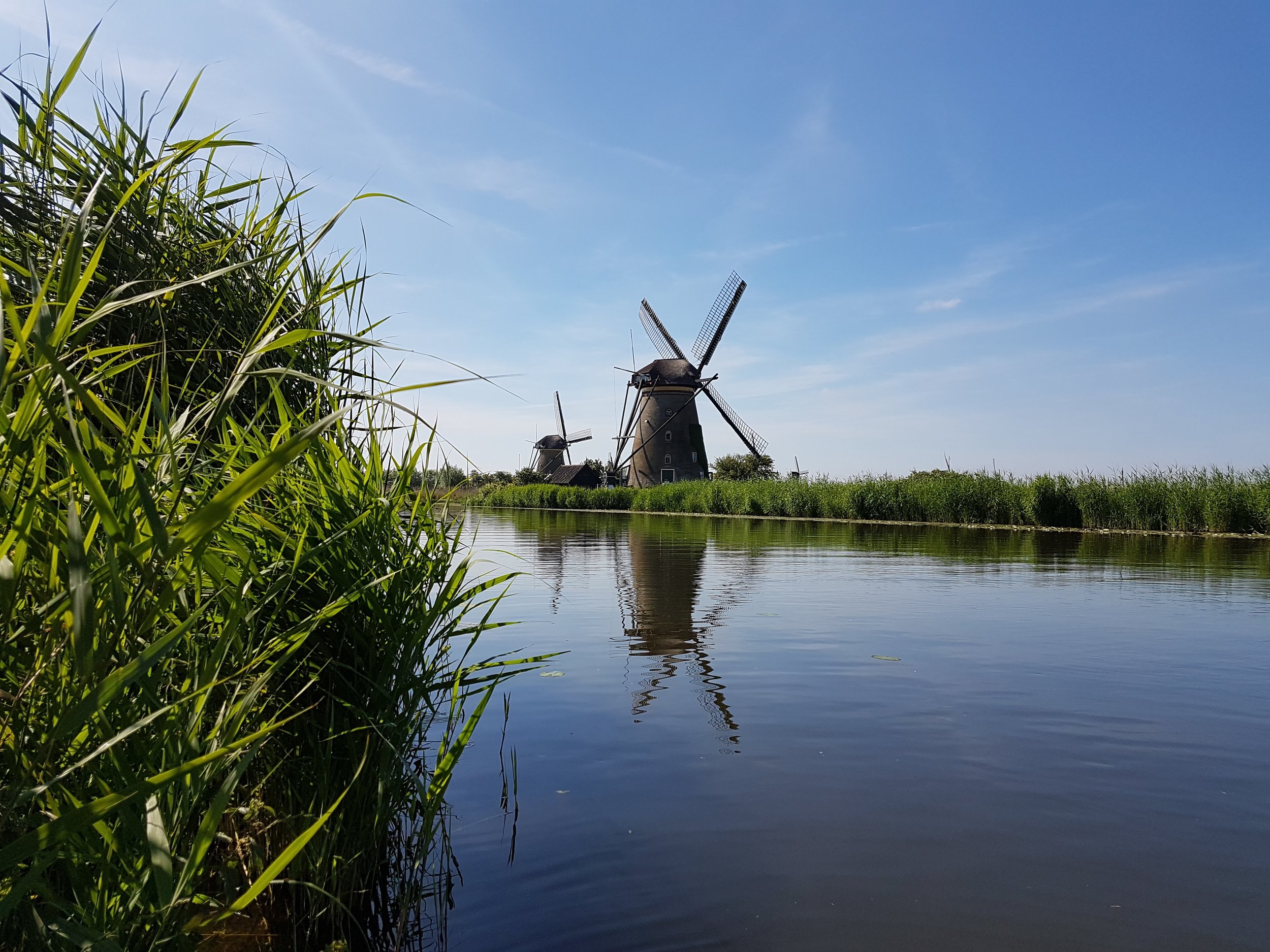 The windmills at Kinderdjik provide a fabulous traditional backdrop.
I guess, so typically Dutch.
Just make sure you visit here at different times of the day and also year. As the changes in light and weather conditions make for some wonderful and interesting images.
It will be worth it in the end...
I ride on until I eventually reach Krimpen aan de Lek, a small suburb in Rotterdam and here the road becomes no more. At this point, you need to cross the river and the only way of doing so is by ferry. Of course, you could pick up speed and try and jump it, or perhaps to cycle on water, but sadly, I haven't mastered either of those techniques just yet. I guess that's what I call... work in progress.
The easiest option is to dip into the back pocket, find 80 cents and pay for the ferry to take you across. It is simple and really straightforward, so that's the option I take. The journey allows you time to rest and view the surroundings and on a day like this... take a rest and a much-needed drink.
On the other side of the river is the path that leads up to the UNESCO World Heritage site of Kinderdijk. Kinderdijk is a small village and is also home to probably the Netherlands most popular tourist attraction. It is home to the largest concentration of windmills in the Netherlands. This is a fabulous place and obviously well worth the visit. Here you will get to go back in time and experience how these windmills were/are still used to manage the water levels in the nearby rivers and dykes.
Some are still lived in and if you do have time, it is great to stop and just talk with the locals. Don't worry, most of them speak English, as well as most other world languages, including Dutch. They also provide a fabulous backdrop to enjoy the typical Dutch scenery, take photographs and just admire the great contrasts of water and windmills.
I know in my short time, here in the Netherlands, I have seen some inspiring images, taken during the early morning hours or at dusk, by a wide range of photographers. Even better, during the winter months, the canals ice over and people travel from near and far to use the large expanse of water to ice skate on. As long as the ice holds, it is a pretty unique and impressive sight to see.
Oh boy, do those Dutchies love their skating...
Busy out there...
After battling through the throngs of tourists, roaming through Kinderdijk. I decide to head out across the polders and sort of follow the river towards another crossing at Nieuwepoort. Here I can make another crossing over the river Lek and continue on my route towards Gouda.
It begins to become a circular type route now and without the river crossings you would actually end up not being able to cross the river at points, probably ending up somewhere in southern Germany. So... if you don't want to make the ride any longer, it is very important to cross when you can.
After making it to Nieuwepoort I again cross via the ferry and then begin to work my way up to the town of Gouda. I have been to Gouda several times before, but on this route it is actually my first time, so I'm relying on the cycle route signs (positioned all around) and also following my nose. Eventually, across the endlessly flat polder landscapes, I begin to make out Gouda and the buildings of the centre. From here I know where I am and begin to pass through.
The distinct smell of cheese and the top of the the Stad Huys. A popular focal point, meeting place when visiting Gouda.
Gouda is a splendid city and has everything to offer. A wonderful sense of history with plenty of great festivals taking place, throughout the year.
It is certainly a great place to visit and enjoy.
If you like cheese...
Gouda is a really nice city and not too far from my home in Rotterdam. It has historical Dutch buildings and is of course home to the world famous Gouda Cheese. Now... I'm not really a lover of cheese, but I have to say that the varieties of Gouda on offer here are pretty fantastic. Having tasted a few of the many samples in the shops, I can say that I have been tempted to buy more, but up until now, I haven't really given into temptation. Sad, but true.
From Gouda, I always feel that you are on the home straight. You start to head west and sometimes this can be a nightmare, as you cycle into the headwind. Head winds are of course troublesome, but they test your character and make you work. You can't avoid them here, but without them you cannot improve your overall technique, quality and stamina on rides.
Over the years I've adopted the attitude to simply just put my head down and get on with it. For sure, it is tough, but the payoff is eventually worth it, as long as you don't get blown off.
Leaving Gouda I head towards another favourite location and a popular destination for people wanting to escape the city. The Rottermeren is close to Rotterdam and is basically an extension of the river Rotte, that opens out into a huge expanse of water. Popular for recreationist like boat enthusiasts, fishermen, bird spotters, painters, skaters and ice skaters...
I like It here and I try to incorporate this area into as many rides as possible. It is a wonderful natural area and one that is loved by both nature enthusiasts and people just wanting to stay fit and utilise the outdoors. It is well worth the visit as it again has windmills dotted around, but also cafes and boat hire, for you to just get out and enjoy.
My route takes me down one side of the river, but usually, like many others, I follow the popular cycle loop and make my way round. Therefore at certain times of the day, especially Sunday's it can become progressively busy, sometimes too busy with groups of cycling teams, training at speed. Good to remain vigilant at all times.
Whatever the weather the beautiful Rottemeren can be enjoyed and explored by everyone.
Going back to the start of the year I witnessed a great sight of the river freezing over and skaters then taking to the ice.
This images captures that moment.
Heading home...
At different points of the year, the weather inevitably changes and the landscape dramatically too. You can see in the picture above, I was lucky enough to witness a frozen Rottemeren, back in January, which was pretty amazing, to say the least.
In no time at all, I'm weaving and meandering my way down the river and then eventually back towards home. The river path is lined with a range of fabulous houses and places that would be so good to live in. Here, right outside your door you can park a boat, then simply cruise up and down, or perhaps even run from the door, take a dive and then go for a swim. It looks like a great life to live, especially on days like this.
En route you pass yet another great place, that place is Outdoor Valley, if you're feeling adventurous and want to do something exciting, then this place is well worth your time. It has loads on offer for the adventurer within you.
Here you can do something positive and also useful for your health and well-being. Again, my advice would be 'practice what you preach' and to stop thinking about it or even talking about it. Just get out there and have some fun! In a place like this, there is lots of fun to be had.
I particularly like and enjoy the mountain bike loop here. The loop is pretty much all man-made and doesn't have a significant amount of climbs, but it has a lot of single track fun, it is relatively short and can be repeated several times over. In close proximity to the city, I feel it provides a wealth of opportunity for any mountain bike enthusiasts.
At this point in proceedings, my spontaneous ride has almost come to an end, but I'm still a little hungry, I need a drink and I'm suntanned to the appearance of a Lobster. Taking this into consideration, I think it is simply time to rest.
Therefore, I make the decision to finish and opt to take a break. I decide to call in and visit the cool, Coppi Koffie cafe. Which is conveniently situated just around the corner from my house. Really lucky to have this so close.
It is a great little cafe, which is relatively new. It provides its customers with an interesting mix or fusion of both cycling and coffee. It is stylish and modern in design and you can even get your bike fixed in the back of the cafe, while you wait.
It is certainly a great concept and I do really like places like this and it is hard not to admire the creative thinking of the owners. I believe it is a great way to bring a community feel to both cycling, coffee and of course cake. Everyone loves a bit of cake!
I would say it is a well worth a visit, for any budding cycling enthusiast, coffee addict or cake connoisseur and I'm sure it will continue to grow in popularity, most certainly in an area of Rotterdam that is booming with new urban influences and creative minds.
One more positive is that they also organise regular rides out, into the countryside starting and finishing at the cafe. Rides similar to the one that I took. Although, this would be in the form of a larger group ride, of differing abilities and well worth a try, especially if that's the kind of thing you are into.
Below, a short video clip (in Dutch) showing the Coppi Koffie cafe.
Once again, big thanks for reading this post and I hope it has given you a bit of insight into my life, the things I love and the things I do. Furthermore, I hope my words perhaps resonate and even inspire you to be spontaneous, get out and do something similar.
The way I see it, there is always something interesting to do, you just have to be positive and make the time to do it. You never know you might like it!
This route is fairly simple and probably a regular route for many riders, but one that I feel has some interesting things to see and also enjoy, along the way. If you would like to take a look at my route, or perhaps share a route of your own, you can see it via my Strava cycling feed.
My route https://www.strava.com/routes/9242619
Links
Cycling in the Netherlands is pretty unique. There are endless miles of safe cycle paths, that make it fun for all ages and abilities. If you are thinking of cycling here, I have compiled one or two useful links that might be of interest to you.
10 best routes in the Netherlands
Latest Images from my Instagram @garethmate