Denmark
We have been lucky enough to recently visit the beautiful country of Denmark. For many years I have been intrigued and excited at the prospect of one day visiting beautiful Scandinavia. In particular Denmark, as it has always been high on the 'places to visit' list.
In the past Denmark and the Danish people had embraced the fact their country had been crowned the 'happiest' place to life on earth. I was always interested to see and experience this at first hand and after a short time on Danish soil, I could actually see why this was true.
Read on to find out more about what we have been exploring and what we have been doing. No doubt it has, wet the appetite and I'm very much looking to one day experiencing even more.
Thanks for reading.
Next stop is Norway... : )
Our Travels and Stay
Denmark is not too far from the Netherlands, well... so the map tells me. In reality, it is further than you think, so traveling by plane is the quickest and best option, for this short haul flight.
We took our flight from Amsterdam Schipol flying to the city of Aalborg, which lies in the northern province of Denmark. That province is called Nordjylland and is beautiful in its appearance, with pretty villages, great coastlines and rural landscapes. The provinces covers quite a big geographical area, so the is plenty to see.
The journey was excellent, seamless and really quick. No sooner had we taken off, that we'd landed. So, there was just about enough time to consume the complementary fresh coffee and an Oude Kaas Broodje. The route was operated by the reliable Royal Dutch airlines KLM and the duration of the journey was approximately 1 hour.
As previously mentioned, Aalborg was our final destination. It is a relatively small city, but equally a great city, with plenty of things to see and do, for any potential visitor or resident living there. It has many interesting attractions dotted around the city and life here is generally laid back and its people very friendly and helpful. The buildings and public spaces are well designed, inviting and exactly what you'd expect from the Danes, who a renowned for their design skills.
It has a similar feel to the Netherlands, simplistic, clean, well organised and like the Netherlands, there are cycle lanes everywhere, with many active people using their bikes to travel around the city and the surrounding area. As a result, it is a great way to see things, making the most of the flat terrain found here.
After the short stop over in what seemed like the 'quietest' airport I have ever been to, we found the hire car, packed in the bags and then started travelling towards the north west coast and our final destination. From landing to leaving with the car took around 20 minutes. I thought that was efficient and pretty amazing.
Our final destination was to be the small village of Grønhøj, which is situated close to the larger (more popular) village of Lokken. Our stay was to be at Landal Green Parks and its proximity was excellently positioned some 400 metres from the sea. Landal always provides amazing accommodation, with their main focus being on nature and locating themselves close to some of the finest natural landscapes.
Of course, this was simply fantastic and ideal for us all, as it provided an excellent and quiet base, to not only get out and explore the local area, but to also travel further afield in order to see even more of beautiful Nordjlland.
At this point, I could tell you a whole lot more about the area, but it seems someone else has kindly done that already. If you would like to read more about Grønhøj, then click here.
Stunning Beaches
'Life is always better at the Beach'.
The province of Nordjlland is a really fascinating place and this particular area of Denmark is home to some quite remarkable beaches. At this time of the year (May) we seemed to have all of these beautiful beaches to ourselves. With wide open expanses of sand and dramatic cliffs, marking the coastline of northern Denmark for mile upon mile.
Large swathes of undulating sand dunes, add to this beautiful landscape and a large scattering of beautiful holiday homes are nestled among them. They provide a great spectacle and can be seen for miles around. It certainly makes for a wonderful place to visit and I can also imagine that it is a great place to stay, year after year. If you are indeed lucky enough to purchase one of those very desirable holiday homes.
During our stay we used the beach frequently, for all types of beach pursuits. I used it everyday, in the early morning to run along, allowing myself to get that much needed 'daily dose' of fresh air, keep fit and simply enjoy such wonderful surroundings. It was really fantastic opportunity to have this great expanse of sand right there on our door step, to watch the sun set and generally feel free. The locals here and holiday makers are certainly very lucky to have this wonderful area at there disposal and obviously enjoy all of the opportunities that it presents. That said, I live very close to the beach in the Netherlands, but this was just different. Somehow it always feels different, must be due to the fact your in a new place.
Denmark has some amazing beaches, that are definitely worth discovering. You can find out more about them below.
The images below are taken by me and my Smartphone. The Samsung is great and has very good, workable 'Pro mode', which allows me to pretend I can take images like a pro.
Well... it provides good functionality and allows me to capture what I want to see, without over saturating the image, which often happens in the basic shooting process. From this I used the editing app Snapseed and completed some basic edits. After that, I uploaded the image to my Instagram account, where I simply fine tune the images in order to give it the feel I was hoping for.
To be honest I still prefer seeing photos with minimal editing, but I'm learning (slowly) that better editing and appropriate filters can often enhance the image and I guess improve it. So improvements still to be made...
Lighthouse
Further along the coast, from where we were located is a quite remarkable place, a place that I'd previously read about and a must see for any potential visitor to the area.
That place is Rudberg Knude and it is located some 15 minutes north of where we were located and just to the south of the popular fishing village called Lonstrup, which is also well worth visiting.
Rudberg Knude is home to a very striking feature that plays a significant roll in lighting up the landscape for miles around. That feature is of course a 'lighthouse', that was built back in 1899 and is situated on top of Lonstrup Klint, a dramatic and eye catching cliff, 60 metres above sea level. Surrounding the lighthouse is a quite amazing natural feature. It is the scene of an ever shifting sand dune, that changes shape and general appearance, as a result of mother nature and the elements that occur here on a daily basis, due to the weather patterns.
After the short walk from the car park, you soon leave the high marram grass dune area and are greeted with what simply looks like a vast desert. In effect, it is a desert, just perhaps a little smaller and cooler than the Sahara. In between the two highest slopes of sand is the lighthouse, perfectly positioned and a hugely popular destination for any visitor.
From here you can look out and see for miles, climb up the steep sides of the sand dunes and then roll down again. You can also climb the lighthouse itself. At the top it is quite a view. Its probably not so good for those weak at the knees or faint hearted.
In front you is the vastness of the North Sea and Norwegian Sea, simply looking at solitude for mile upon mile is quite mesmerising and amazing. To the left and right is the coastline that is continually prone to elements and coastal erosion. Landslides are visible all around for all to see and I guess pay homage to the power of the sea.
The lighthouse stopped operating in 1968 and has now has just been left to the elements and interesting humans to explore. The outer buildings were used up until 2002, where the public could enjoy browsing a museum and coffee shop. Although, due to its proximity and mother nature, the ever changing landscape will mean that in 2023, the lighthouse will most probably fall into the sea and then gone for ever. Shame!
My partner, Claire recently created a wonderful short video clip at the lighthouse. She went back one evening in the hope of capturing the lighthouse, its location, during the sunset and of course the dramatic light. You can see that video below or visit her website Claireonline.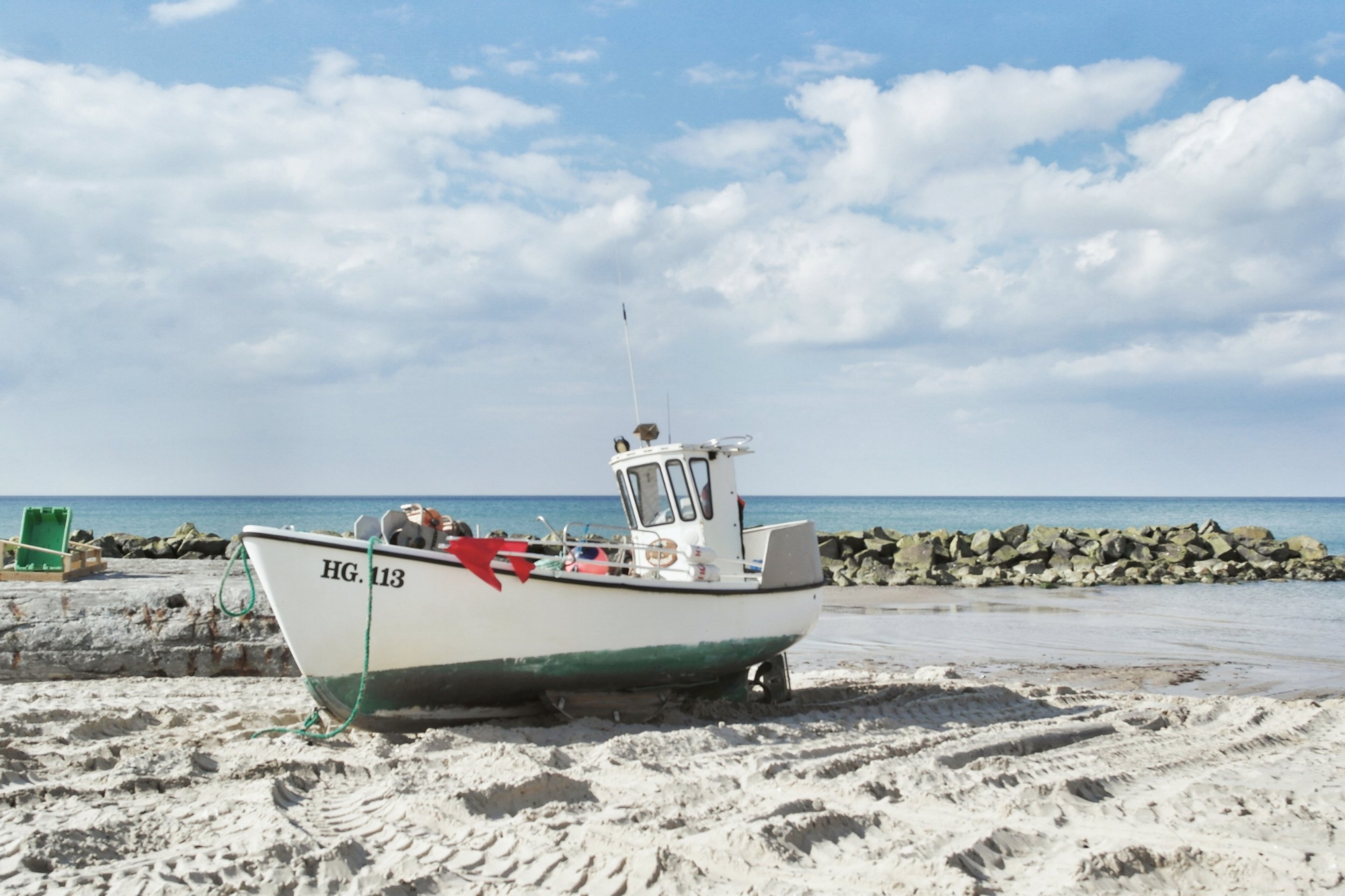 Love Fishing...this is the place for you.
The beautiful and popular fishing village of Lønstrup. Here you will find an authentic, picture perfect village, close to the sea.
For more on Lønstrup click on the link.
More Information
As you can see from the images taken, we had an amazing time and no doubt, one day we will go back to enjoy even more. Denmark is a wonderful country and it has some spectacular elements that are simply too good to miss. It is definitely an impressive place and it certainly is a place well worth visiting.
Before embarking on this particular visit I did carry out quite a lot of research and found the Danish Tourist Board to be really informative and very up to date, sharing a wealth of really great information across all of its social media channels. Therefore, I really do think that if you are going to visit, their wonderful insight is well worth a look.
Links
Images
During the trip I took a large amount of photos, probably too many, so here are one or two images. More can be found on my Instagram feed @garethmate
Where in the world is Grønhøj?
Thank You...
for reading this latest post and I hope my musings have given an insight into our latest adventure and the good times we all spent here.
I really do appreciate anyone taking the time to read this, I do it... because I enjoy it. Therefore, if you would be so kind to pass on any feedback, then I would really appreciate any positive vibes, or positive criticism. That way I can continue to develop the website and its overall content.
I will continue to add more images to my Instagram page @garethmate